D&T Members Price: £20.55
Member Discount Applied At Checkout
Regular price
Sale price
£25.69 GBP
Unit price
per
Sale
Sold out
BACARDÍ Caribbean Spiced is full of tropical taste. A blend of smooth, aged premium rum, spice and the Caribbean flavours of coconut and pineapple, it's ideal for cocktail making and adding excitement to long drinks.
The delicate blossoms of the coconut tree give BACARDÍ Caribbean Spiced a very special natural sweet sensation. Fresh pineapple juice and coconut water add more fruity notes, while cinnamon and vanilla provide a spiced rum accent. The finish is gently peppery and dry. Meanwhile, the warm, deep amber hue of BACARDÍ Caribbean Spiced adds a colourful touch to any drink.
The spicy fruitiness of BACARDÍ Caribbean Spiced makes it ideal for cocktails with layers of tropical flavour. Try a Caribbean Colada and let the spiced rum taste transport you to balmy beaches and warm seas. For more sunny sensations, mix a Caribbean Blue or go all-out with coconut and make a Coco Daiquiri. For a bright spin on the classic combination of rum and cola, just use BACARDÍ Caribbean Spiced. It's also delightful for sipping.
At BACARDÍ, making truly great rum is our mission. And to continue doing that, we're committed to taking care of our resources. Amongst other initiatives, we partner with Bonsucro®, ensuring that 100% of our molasses comes from sustainably sourced sugarcane delivered by certified suppliers. In addition, any waste material left over from production is used to produce biogas, which then generates power for our operations. Anything left after this is returned to the earth as compost.
However you enjoy BACARDÍ Caribbean Spiced – neat, on the rocks, in cocktails or in long drinks – the tropical taste of the quality Caribbean ingredients will excite the taste buds and stir the imagination.
For your next get-together with family or friends, or for exciting drinks relaxing at home, the premium taste of BACARDÍ Caribbean Spiced will add a delightful tropical touch.
Share
View full details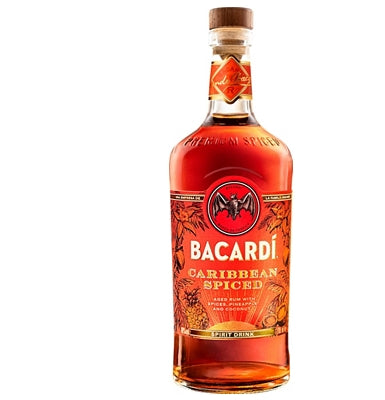 Become A Member Today And Pay Our Cost Price!

The Best, Most Transparant Pricing Structure In The Drinks Industry. Join And Pay What We Pay The Brand Holder For All Of Your Favourites! We Negotiate Pricing For Your Benefit And You Really Pay What We Pay!

JOIN NOW

Transparent, Honest And You Benefit As We Grow!

As We Grow, We Negotiate Better Pricing, Better Giveaways And We Remove The Need To Shop Around. Your One Stop Place To Go.

JOIN NOW